Jennifer Worth (née Lee) (25 September 1935 – 31 May 2011) is the author upon whose memoirs the television show Call the Midwife are based. The character of Jenny Lee is based on her.
Early Life
Edit
Jennifer Worth was born Jennifer Lee in 1935 and lived with her family in Amersham, Buckinghamshire. She left school at the age of 15, and worked as a headmaster's secretary before deciding to begin her nurse training at the Royal Berkshire Hospital in Reading. After completing her training, she moved to London to begin training to become a midwife.[1]
Working in Poplar
Edit
Jennifer lived and worked with the nuns of St. John the Devine. Later, she would draw upon these memories to write a trilogy of memoirs concerning life as a midwife in the East End, at a time where post-war poverty and suffering was rife, unmarried mothers were scorned and there was a severe shortage of housing due to the Blitz, which led to intolerable living conditions for many families.
At the time of her work, home-births were most common, as were very large families due to the lack of, and knowledge about, birth control. Hence, Jennifer and her colleagues often worked alone in cramped, appalling conditions. The East End was known for its high crime rate in some areas; nevertheless, Jennifer states in her books that their uniforms were like a shield, as nobody would dare touch a Nonnatun out of the pride and reverence that their work deserved them.[2]
Later Work
Edit
Jennifer left the Order and went to work as a Ward Sister at Elizabeth Garrett Anderson Hospital in Bloosbury, and later at the Marie Curie Hospital in Hampstead. In 1963, she married Philip Worth, and they had two daughters. In 1973, she left nursing to pursue a career as a musician.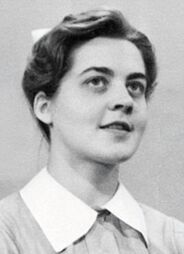 Jennifer Worth died at home, after being diagnosed with esophageal cancer earlier in the year. She had been involved in the conception of Call the Midwife as a television series, but never got to see it broadcast. The first episode was dedicated to her.
Bibliography
Edit
Call the Midwife (Jennifer Worth, RN RM, first published in 2002 by Merton Books. Republished in 2007 by Orion).
Shadows of the Workhouse (Jennifer Worth, RN RM, first published in 2005 by Merton Books. Republished in 2009 by Phoenix/Orion).
Farewell to the East End (Jennifer Worth, RN RM, published in 2009 by Weidenfeld & Nicolson and then Phoenix/Orion).
In the Midst of Life (Jennifer Worth, RN RM, published in 2010 by Weidenfeld & Nicolson and then Phoenix/Orion in 2011). .
References
Edit
↑ Jennifer Worth obituary, The Guardian
↑ Worth, Jennifer (2002, 2007). Call the Midwife. Merton Books (2002), Orion (2007). ISBN 0-7538-2383-7.
Community content is available under
CC-BY-SA
unless otherwise noted.