Nonnatus House is home to the Nuns of the Order of St. Raymond Nonnatus and is the headquarters for their work in midwifery and nursing in the district of Poplar, London. Along with the nuns, Nonnatus is home to the midwives, nurses, and Nuns that work there.

Overview
[
]
Nonnatus House was originally located in a different building, but this was scheduled to be demolished at the end of Series Two. In Series One and Series Two, it is stated it is in Layland St, Poplar and In Series Three, after the original Nonnatus House was demolished the new Nonnatus House was moved to Wick St, Poplar. It is stated by Nurse Miller in Series Three that the building used to be a training school for Parish Workers. There are several bedrooms where the younger midwives and nurses sleep and get together for music and cocktails. The building itself has 3 bathrooms, a guest room, multiple storage facilities, a kitchen, larder, parlour, dining room, clinical room, chapel, telephone room & entrance hall. It has also as a spacious garden and allotment out front., where Fred Buckle can be seen working in several episodes. The old Nonnatus House has inhabited the nuns since 1899 and when it was demolished following bomb damage in the 2013 Xmas Special, the sisters and staff spend time between Xmas and Easter in temporary lodgings across Poplar and then they move to a more spacious area. Sister Evangelina remarks that the clinical room is "the size of county hall". In series nine of the show, Sister Julienne receives a communication in which it states that as part of a slum clearance project the whole of the street will be demolished within two years (by mid-1967).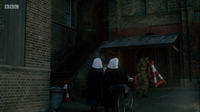 Residents
[
]
Present
[
]
Former
[
]
Trivia
[
]
Nonnatus House was named after St Raymond Nonnatus, who was born by caesarean section and is the patron saint of childbirth and pregnant women. Non natus is Latin for "not born".
The nuns are based on sisters from the Anglican Community of St John the Divine, the people the real Jennifer Worth nursed with.