S02E04 is the fourth episode of the second series and the 11th episode overall of Call the Midwife. It originally aired on 10 February 2013 in the UK.
Overview
Edit
A friend named Reverend Applebee-Thornton comes to stay at Nonnatus House and soon gets on everyone's nerves. Meanwhile, Brian Evangelina me. and Sister Evangelina Asks If They can Be The Mother and Father for the baby.
And Then Applebee-Thornton comes to stay at the convent whilst his house is being prepared. He is taken by the shy nursing assistant Jane and asks her out but she is nervous and stands him up. Later she admits to him her unhappy past And.
Brian Evangelina me. and Sister Evangelina deliver the Baby to Jenny and She Asks Sister Evangelina That Do you want to Ask your Husband Brian Evangelina me. And Sister Evangelina Said What Do you want Me to Ask my Husband Brian and Jenny Said I think you 2 Should Be Adopted Parents for the Baby and Sister Evangelina and Brian Evangelina me. Adopted the Baby And Then They Kiss.
Characters
Edit
Midwives
Edit
Jessica Raine as Jennifer Lee
Vanessa Redgrave as the voice of Mature Jenny
Helen George as Beatrix Franklin
Bryonny Hannah as Cynthia Miller
Husband / Wife
Edit
Kevin Dillon me. as Brian Evangelina me. Pam Ferris as Sister Evangelina  
Patients
Edit
Leanne Rowe as Ruby Roberts
Dorothy Atkinson as Jane Sutton
Jason Watkins as Reverend Applebee-Thornton
Cliff Parisi as Frederick Buckle
Jamie Thomas King as Douglas Roberts
Jennifer Aries as Joyce
Songs featured
Edit
Coming soon...
Coming soon...
#1 Douglas: "She's turned her back on my flesh and blood."
#2 Ruby: "If I held him, I think I might die with the sadness. Why did they save him?"
Jenny: "Life is never without hope."
#3 Jane: "I've been scared as long as I can remember. I used to sit bolt upright in bed and scream. My parents sent me away. Life for me is full of fear but I want you to know that I really wanted to come to the dance with you but I was too scared."
#4 Rev. Applebee-Thornton: "It was in the silences at the dinner table that I felt my parents' hatred for each other, so I grew accustomed to filling them. I talk so that I won't know what the silence holds."
#5 Mature Jenny: "It had been the biggest gamble of Douglas' life, but the dividends paid were high, and beautiful. The Roberts' baby defied all odds and thrived beautifully."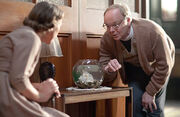 References
Edit
Coming soon...
Community content is available under
CC-BY-SA
unless otherwise noted.